Your single point of reference for all your Geotechnical Inquiries
MassMotion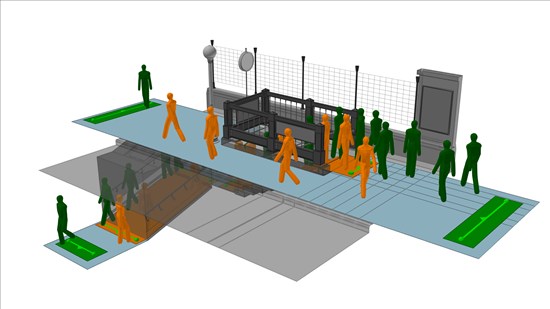 Oasys brings advanced crowd analysis to a wider market with MassMotion Flow
3D analysis of pedestrian behaviour for ingress/egress, emergency evacuation and general flow has never been quicker, easier to use or more accessible.

Oasys Ltd is bringing the benefits of advanced crowd analysis to a wider market with the launch of MassMotion Flow for emergency evacuation and circulation planning.
MassMotion Flow has been created to meet demand from the many firms who have recognised its parent product, MassMotion as the most advanced pedestrian simulation and crowd analysis tool available, but do not need its full feature set.
"Exploring different scenarios is no longer an expensive or time-consuming luxury. MassMotion and MassMotion Flow bring crowd safety and behaviours to the forefront of the design process, right where they belong, for firms of any size." says Erin Morrow, product director of and the driving force behind the development of MassMotion.
The new release matches the original MassMotion for analysis power, and on the number of agents it can simulate. It will therefore suit the needs of designers and engineers who want to be able to model environments quickly to get feedback on pedestrian interaction and behaviour for a large number of different scenarios, and for projects of any size. Simulations are typically based on standard, easily-imported CAD/3D models.
Capable of simulating hundreds of thousands of people within a matter of hours, MassMotion Flow holds all data in a single SQL database to turbo-charge data storage, retrieval and interrogation. Designs are rapidly analysed using a variety of built-in graphing, mapping, and filtering tools.
Architects, engineers and designers have become aware of the quantum leap they can make by switching from 2D to 3D crowd analysis in communicating complex ideas to stakeholders, and to explain and win the case for changes in designs. MassMotion Flow also features the new bi-ped agents that have been developed by the Oasys teams for even more realistic visual presentation.
MassMotion Flow's new object-based user interface makes it easy to develop pedestrian environments quickly using either imported CAD/BIM geometry or from scratch with MassMotion's new polygon modelling tools.
Other new features include dynamic scene search, select anywhere behaviour, time tables, and dynamic properties, which now make it easier to work with your data. High-quality real time 3D graphics and direct image and video capture generate stunning proposals and presentations.

BIM integration is very much at the heart of the design of MassMotion Flow, which means the data it generates can be used to inform others in the project teams quickly, accelerating the production of optimal final designs.
Oasys Commercial Manager Nigel Rees said: "We believe that MassMotion Flow is a tool that every architect, fire engineer and designer will need to meet their customer's growing expectations for proof of concept with more analysis and easily-understandable visual output.
"Naturally, there is a clear upgrade path to MassMotion and those who find they need more functionality can move from one to the other, easily transferring data between the systems."

Available to buy or rent on licenses as short as one month, MassMotion and MassMotion Flow quickly deliver return on investment.
ALL OASYS SOFTWARE IS AVAILABLE FREE FOR 30 DAYS.
Visit www.oasys-software.com

A suite of training videos is available to view.
For further information please contact:

Oasys Limited
Joe Bell
Joe.Bell@arup.com
+44 (0) 191 479 1649
or
Lynne East (PR)
lynne.east@btinternet.com
+44 (0) 1273 731184 /+44 (0) 7850 965442
User Rating:
You must be registered to vote.