Your single point of reference for all your Geotechnical Inquiries
Tunnel Design & Construction Summit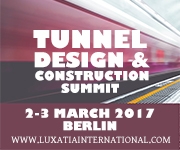 We are pleased to announce that Geotechpedia has established a media partnership with Luxatia International for the upcoming "Tunnel Design & Construction Summit" which will take place on 2-3 March 2017 in Berlin, Germany.
This summit will delve into the latest advances and future challenges in Tunnel and Underground Space Technology and Construction. The summit will offer deeper insights into issues related to Design, Analysis and Construction of Tunneling Projects, and it will provide an excellent opportunity to learn more about the recent projects and innovations from the inspirational speakers.
Besides the individual presentations, networking breaks will give the possibility for the industry leaders to gather together and discuss about potential ideas which will take tunnel design and construction to new levels in the near future.
Moreover, we have secured a 25% discount for all Geotechpedia subscribed users. The discount applies on both the conference fee and the exhibition package.
Geotechpedia subscribers can receive the 25% discount when registering for the event online and filling in the promo code LuxaTDC2017.
In case you wish to learn more about the event's speakers and schedule you can visit the summit's official website where you can easily request the related brochure.
User Rating:
You must be registered to vote.