Your single point of reference for all your Geotechnical Inquiries
GTR 780 Standard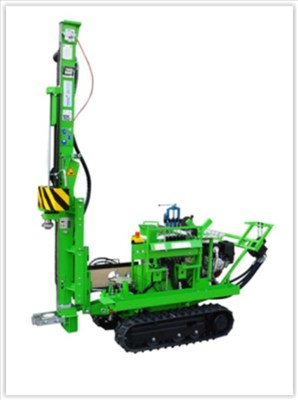 This compact unit is designed for dynamic probing according to DIN ISO 22476-2 and -3 (formerDIN 4094) and allows for leightweight, medium heavy and superheavy dynamic probing tests by simple drop weight mass adaption on site. Drop heights of 50 cm or 75 cm can be adjusted. Soil sampling with tube diametres up to 90 mm is ideally possible. It is mounted on a self-propelled rubber chain crawler and extremely suitable for rough terrains. Inclines of 30 degrees pose no problems, the mast can be adjusted accordingly, a waterbubble indicates the true vertical position. The rig is fully hydraulic and incorporates an autoreverse valve for the rod extraction unit. A folding mast means compact dimensions for easy transport. The total mast working length is 1.200 mm. Lateral steel boxes for rods and tools and take-up brackets for the hydraulic rod extraction unit, clamps, ground plate and an weather protection umbrella are standard. So all necessary equipment fort he field work on site is safely carried on the machine, no carrying, pushing or lifting of heavy components is required.

Technical Data
Engine: Honda GX 270
Cylinder: 1
Fuel: Petrol
Performance at 3.600 RPM: 6,3 kW / 8,4 PS
Torque at 3.000 RPM: 19,1 Nm
Displacement: 270 cm³
Tank: 5,3 l
Oil Capacity: 1,1 l
Contact:
Normeyer Geotool GmbH
Wolfener Str. 32-34 / Building B
12681 Berlin, Germany
Phone + 49 (0) 30 / 934 905 200
Fax + 49 (0) 30 / 934 905 222
Mail info@nordmeyer-geotool.de
Country:
Germany

User Rating:
You must be registered to vote.