Your single point of reference for all your Geotechnical Inquiries
LMSR on Pick-Up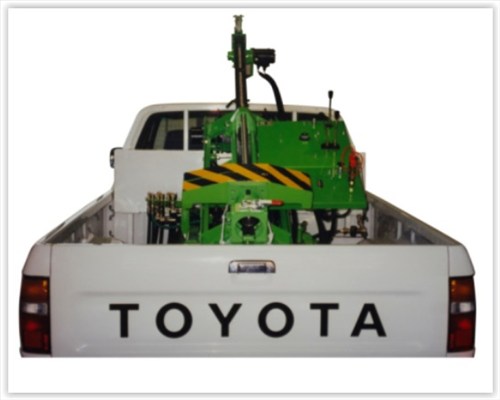 The dynamic probing rig LMSR on Pick-Up is a highly functional soil investigation machine, which can versatilely employed because of its fully hydraulic features, fed by an integrated hydraulic power pack. Self-evidently transport to and on site is simple and easy. Additional hydraulic legs ensure a quick vertical setup as well as a stable working setup. It can be used for soil-bearing capacity and compaction tests. Dynamic probing standards DP-L, DP-M, DP-H, DP-SH as well as SPT can be carried out. Adaption for different drop weight masses is realized by removing or adding weight bodies at the drop weight mechanism. Drop height can be varied between 50 and 750 mm by means of an adaptor bracket. Displacement of drop weight carriage on the mast is hydraulically realized by the mast chain, a manual rope winch is not required. Furthermore the hydraulic power pack can serve a rod extraction unit or cylinder as well.
In addition the LMSR on Pick-Up can be applied for window sampling with hydraulic jack hammer. Further to that it is possible to open a concrete surface by a diamond coring device. All additional features can be carried on the Pick-Up.

Technical Data
System Pressure: 160 bar
Hydraulic Oil: BP Energol HLP - HM 46
Contact:
Normeyer Geotool GmbH
Wolfener Str. 32-34 / Building B
12681 Berlin, Germany
Phone + 49 (0) 30 / 934 905 200
Fax + 49 (0) 30 / 934 905 222
Mail info@nordmeyer-geotool.de
Country:
Germany

User Rating:
You must be registered to vote.