Your single point of reference for all your Geotechnical Inquiries
Low Cost Water Level Dipmeter KLL-Light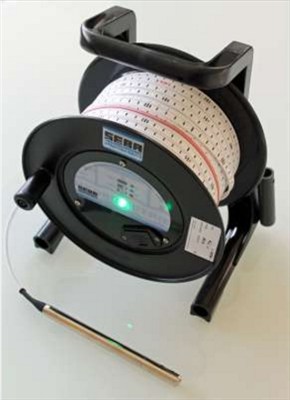 The KLL-Light Electric Contact Meter is equipped with a signal buzzer as well as a signal lamp (signal-LED). On deploying the probe into the borehole, well, reservoir or other, the lamp and buzzer signals will indicate when the probe touches the water-level the appropriate measurement is read from the graduated tape.
The cable drum of the KLL-Light is made of lightweight, shock resistant polycarbonate,which is perfectly suited for field use due to its solidity and corrosion resistance.
Furthermore, the multicolour LED indicates the level of the single 9 V battery.
See also our Pocket Dip Meters 10 metres & 15 metres long.
Key Features
One 9V Battery
Low Cost Now Discounted
Colour Coded LED Battery Condition
Light Weight
Contact:
SEBA Hydrometrie GmbH & Co. KG
Gewerbestr. 61a • D-87600 Kaufbeuren
Tel.: +49 (0)8341 / 9648-0
Fax: +49 (0)8341 / 9648-48
E-Mail: info@seba.de
Internet: www.seba.de
Country:
Germany

User Rating:
You must be registered to vote.