Your single point of reference for all your Geotechnical Inquiries
Aladdin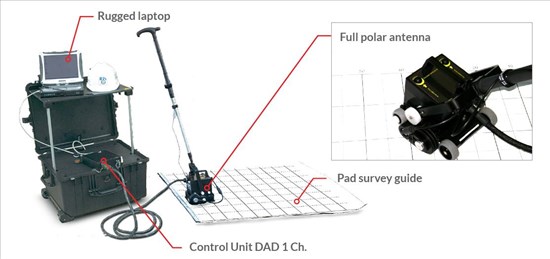 3D Ground Penetrating Radar for concrete inspection

A patented survey kit, Aladdin enables the acquisition of 3D images with the highest resolution. Halving acquisition time, this GPR reveals shadowed and deep targets with its full-polar antenna. The Aladdin has many surveying abilities, including:
3D imaging of shallow and deep rebars in concrete;
Inspection of concrete for location of voids;
Inspection of concrete thickness, integrity;
3D imaging of pre-tension and post-tension cables;
Inspection and analysis of old structures and monuments;
Inspection of walls and floors for the location of pipes, objects, caches, etc..

The Aladdin features:
Dual Polarized: Aladdin is equipped with two 2GHz antennas polarized perpendicular to each other. The dual polarization enables deeper surveying, providing images of both shallow and deep structures. Standard antennae read shallow targets (rebars), but do not reveal lower structures.
Wi-Fi link: For ease of operation when data collection is required in awkward locations such as vertical walls or rooftops.
Immediate 3D imaging in the field: With just the press of a button, the 3D tomography of the surveyed area can be available in real time in the field.
Pad Survey Guide (PSG): Patented survey kit that permits the acquisition of 3D images with the highest resolution.
Special full-ploar high frequency: A 2 GHz antenna combined with the patented PSG permit joint orthogonally polarized scans to be acquired in a single pass. This detects shallow and deep structures, halving acquisition time compared to standard methods.

Other benefits of the Aladdin include:
Faster surveys: dual polarization allows scans to be performed in just one direction, halving acquisition time;
Able to penetrate below the first level of rebar with the dual polar antenna;
High resolution 3D imaging;
Extremely flexible user operations with wireless link and a light easily transportable system;

Software solution from field to office
The Aladdin system is suitable for in the field analysis of concrete. Aladdin is equipped with K2 FastWave acquisition software. A dedicated button provides a tomographic view of the subsurface to cut the surface.
Contact:
IDS GeoRadar s.r.l.
Via Enrica Calabresi 24
loc. Montacchiello - Pisa
Italy - 56121
Tel: +39 050 31 24 501
Fax: +39 050 31 24 205
E-mail: info@idsgeoradar.com
Web: www.idsgeoradar.com
Country:
Italy

User Rating:
You must be registered to vote.