Your single point of reference for all your Geotechnical Inquiries
AX 01 PLATE BEARING TESTER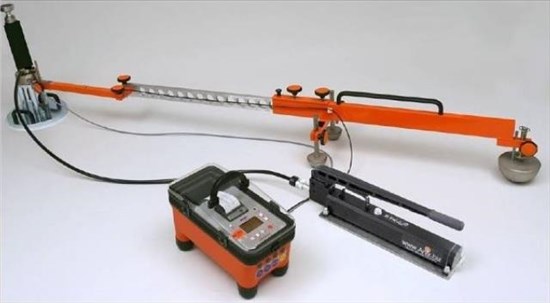 The AX 01 Plate Bearing Tester is used for earthworks, foundations and road construction to determine the deformability, strength and bearing capacity of soils and base layers.
The results of the test are calculated and displayed immediately and in addition to that stored at the SD card (the electronic device evaluates the two strain moduli and their ratio). Besides that the thermal printer provides an immediate printout of the results: the measurement data (average compressive strength below the plate and the corresponding deflection of the load plate) are shown in a printed diagram. By the use of the SD Card it is also possible to transfer the measured data to the PC, where one can work with them in every detail.
The whole equipment can be used by one person and in the case of rain also. The compact design (LxBxH: 1150x340x260 mm) of the AX01 allows easy transportation in the trunk of a car.
Contact:
Nordmeyer Geotool GmbH
Wolfener Str. 32-34 / Building B
12681 Berlin, Germany
Phone + 49 (0) 30 / 934 905 200
Fax + 49 (0) 30 / 934 905 222
Mail info@nordmeyer-geotool.de
Country:
Germany

User Rating:
You must be registered to vote.