Your single point of reference for all your Geotechnical Inquiries
SMARTReader Handheld Readout Box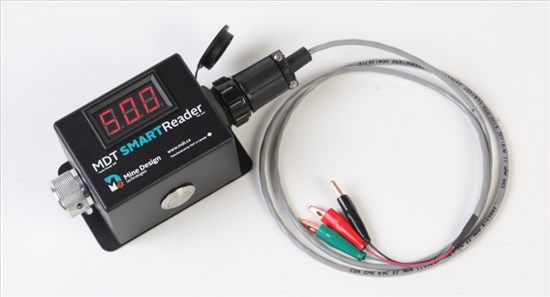 The MDT SMARTReader is a small, rugged, easy to use readout unit for the SMART family of geotechnical instrumentation. Powered by two 9 volt batteries, this fully-regulated 5VDC unit measures between 0-5VDC in 1/100 V intervals. The voltage readings are easily converted into raw displacement readings based on the scale (0 to 500). For a 5-inch (127 mm) potentiometer, each unit on the scale is equal to 1/100 of an inch (0.254 mm); for a 2.5 inch (63.5 mm) potentiometer, each unit is the equivalent of 1/200 of an inch (0.127 mm). However, because all of the movements are relative to the initial readings, it is recommended that the MineMonitor database be used for the movement calculations.
Specifications
Fully regulated 0-5VDC supply
Weatherproof 10 socket connector
1 cV resolution
Features and Benefits
Rugged case well suited to field use
Small form factor easily tucks inside coveralls or a jacket
Simple, easy to use
Large LCD display makes data reading easy, especially in low light conditions
Works with all SMART instrumentation
Can also be used with GMM's via the GMM connector
Applications
Performing baseline readings during instrument installation
Validating instrument readings
Clients with only a few instruments where manual readings are sufficient
Contact:
Mine Design Technologies Inc
Telephone : +1-613-549-5223
Email : sales@mdt.ca
Headquarters: 6-1045 John Counter Blvd, Kingston ON Canada K7K 6C7
Country:
Canada

User Rating:
You must be registered to vote.