Your single point of reference for all your Geotechnical Inquiries
B160 XP Hydraulic Pilling Rig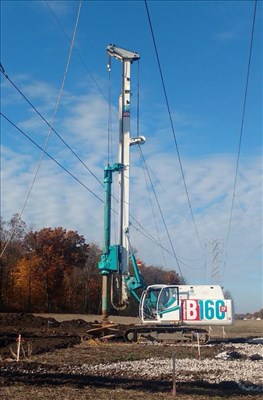 The Casagrande B160 XP is a machine dedicated to giving the specialist contractor equipment to perform large diameter rotary and CFA piling. It is the result of research and innovation based on over 50 years of experience and success of the company in the fi eld of foundations and geotechnical engineering.
Designed to work on the most difficult sites and has excellent technical characteristics: 160 kN high speed winch for fast work, the H16 rotary head has a maximum torque output of 160 kNm and speed up to 33 rpm, it is ideal for drilling large and small diameter boreholes.
Max depth 50 m
Max diameter 1500 mm
Engine power 168 kW
Width of crawler 2500÷3700 mm
Shoes width 600 mm
MAIN WINCH
Line pull 160 kN
AUXILIARY WINCH
Line pull 70 kN
CROWD – RAM
Extraction force 205 kN
Crowd force 140 kN
Stroke 5200 mm
ROTARY HEAD
Torque 160 kNm
Drilling speed 32 rpm
WEIGHT
Weight in working condition 41 t
Contact:
Via A. Malignani, 1 I-33074 Fontanafredda (PN) - Italy phone +39 0434 994468 fax +39 0434 994338, plant@casagrandegroup.com
Country:
Italy

User Rating:
You must be registered to vote.