Your single point of reference for all your Geotechnical Inquiries
LF70 Surface Coring Fly Drill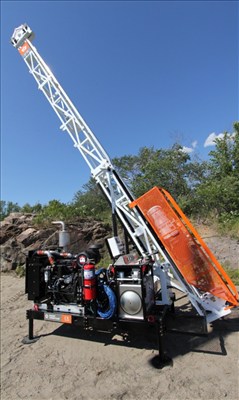 The LF™70, one of the most recognized small-format drills in the industry, is a flyable rig with a depth capacity of 700 m that can be assembled in less than an hour. With its innovative modular design, this lightweight exploration rig is ideal for drilling in remote locations. Self contained operator panel with manually operated hydraulic control valves, 5.4 ton capacity mainline hoist, 6.4 ton pullback with 6 m pull, direct-coupled feed cylinder with 1.83m stroke, Hollow spindle rotation unit with 4-speed transmission (HQ™ & PQ™ configurations available), Nitro-Chuck™ with 133 kN holding capacity, Hydraulic powered rod clamp with BQ™ rod to HWT casing jaw sizes, 45 degree - 90 degree angle capability.
Contact:
BOART LONGYEAR, Global Headquarters, 10808 South River Front Parkway, Suite 600, South Jordan, Utah 84095, United States of America. email:info@boartlongyear.com, Tel: +1 801-972-6430, Fax: +1801-977-3374
Country:
USA

User Rating:
You must be registered to vote.