Your single point of reference for all your Geotechnical Inquiries
Diamec Smart 4 Underground core drilling rig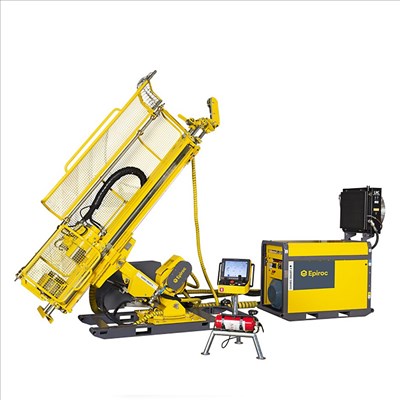 The Diamec Smart 4 is compact and powerful for its size as well as easy to set up. Ideal for both underground and surface drilling, it can be equipped with a long or short feed frame and wire line equipment. The "push-equals-pull" feed cylinder also allows for maximum capacity for uphole and downhole drilling. A unique positioner system facilitates movement of the feed frame through 180 degrees. With the aid of levers, the synchronized dual hydraulic cylinders move the feed frame from vertically downwards all the way up to vertically upwards – and there's no need to move the wire line winch. This ensures exact lining up to existing holes. A turntable is also available for easier horizontal adjustment.
Main application area
Underground exploration
Drilling method
Core drilling
Drilling diameter
A ; B ; N
Drilling depth capacity (see note)
0 m - 900 m
Chuck inner diameter
78 mm
Max. torque
744 Nm
Feed type
Direct acting cylinder feed
Feed force
52 kN
Pull force
52 kN
Max. rod size
89 mm
Installed power
45 kW
Control system
CanBus Control-RCS4 with touch screen control panel
Carrier option
Skid
Main optional equipment
Flush pump ; Air oil cooler ; Bracing device
Note
The drill depth capacities only serve as guidelines and refer to vertical down drilling. Epiroc cannot guarantee that these results can be achieved in all drilling conditions. You find details about technical specifications in the brochure.
Contact:
Country:
USA

User Rating:
You must be registered to vote.