Your single point of reference for all your Geotechnical Inquiries
Enterprise Level Dynamic Triaxial System (ELDYN)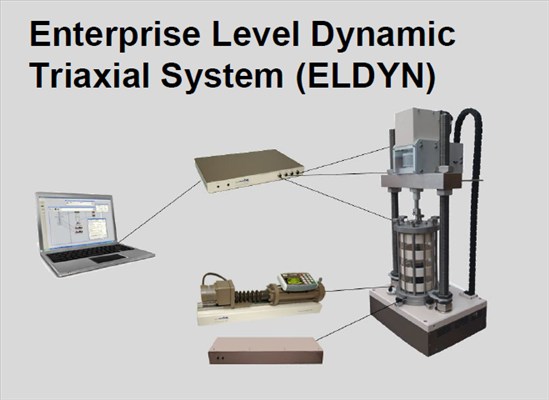 The GDS Enterprise level Dynamic triaxial testing system has been designed to fulfill the demand within the geotechnical laboratory testing industry for a lower cost, more basic dynamic triaxial testing system. ELDYN provides a simple route to allow cyclic loading of triaxial samples under either load or strain control while monitoring the effects on the specimen pore pressure. Technical Specifications: Maximum Operating Frequency: 5Hz. Minimum Operating Frequency: Static tests, i.e. < 0.001Hz. Highly accurate dynamic, electro-mechanical actuator. Standard Triaxial cells can be used (upgraded to dynamic seals and bearings). Available sample sizes (depending on cell selection): Φ38 x 76mm (or Φ39.1 x 78.2mm), Φ50 x 100mm, Φ70 x 140mm (or Φ61.8 x 123.6mm), Φ100 x 200mm (or Φ101 x 202)mm
Φ150 x 300mm, 16-Bit dynamic data logging, 16 Bit dynamic actuator control channel. Cell pressure range to 2MPa (dependent of cell choice.
Contact:
Unit 32 Murrell Green Business Park, London Road, Hook, Hampshire, RG27 9GR, UK. Tel.:+44 (0) 1256 382450, FAX:+44 (0) 1256 382451, e-mail:sales@gdsinstruments.com

Country:
UK

User Rating:
You must be registered to vote.