Your single point of reference for all your Geotechnical Inquiries
SimMine
Open Software link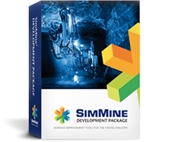 SimMine® Development Package is an easy-to-use and powerful software to plan, simulate and evaluate the development process in underground mining. By using SimMine® as the method of verification of plans, you will get more accurate results than from commonly used spreadsheet based schedulers.
Key Features
- Test long- and short-term schedules ahead of time to see if development targets can be met
- Compare different scenarios to yield an improved development schedule
- Analyse multiple infrastructure scenarios
- Identifying critical paths and critical start date in development projects
- Analyze development delays due to equipment downtime and effects of maintenance improvements
- Watch ongoing operations animated on the screen to validate equipment assignments
- Evaluate best shift schedules to meet development rate demands
- Test what priorities will best achieve your development goals
- Simulate drift development with both single and multiple headings for long access drive
- Find the most cost effective way to develop your mine
- Find the optimal fleet size, number of operators and best shift schedule
- Reduce bottlenecks and equipment conflicts
- Determine the effectiveness of changing fleet size, either by acquisition or removal of equipment
Country:
Sweden

User Rating:
You must be registered to vote.