Your single point of reference for all your Geotechnical Inquiries
Trench 2012
Open Software link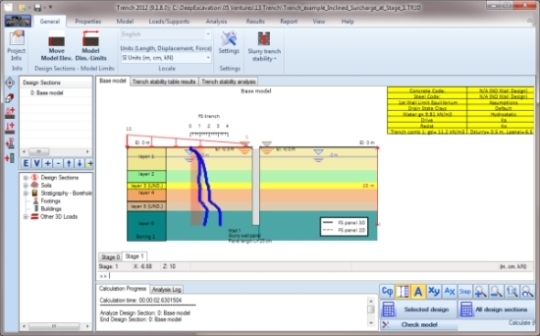 TRENCH 2012 is a user friendly, affordable, and versatile software program that evaluates the stability of slurry supported trenches and panels for 2D and 3D analyses. With TRENCH analyze in a few minutes what would take hours to do by hand. Trench 2012 is the newest edition of the software, and comes with a new interactive environment and new capabilities.
Features
3-Dimensional stability according to German DIN 4126.
2-Dimensional stability with wedges or active pressures.
2D and 3D loads, including buildings etc.
Vary slurry densities, panel dimensions, etc.
Alternative definitions of safety factors.
Use uniform or custom surcharge patterns.
Safety factor given throughout depth of trench.
Multiple analysis combinations with different layers or properties.
Perform parametric studies without changing default data.
User friendly and comprehensive sreen and printer outputs
Metric and English units available.
Country:
New York/ USA

User Rating:
You must be registered to vote.