Your single point of reference for all your Geotechnical Inquiries
CTRAN/W
Open Software link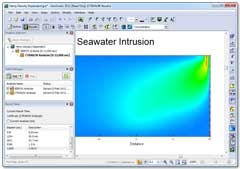 Contaminant transport analysis
CTRAN/W models the movement of contaminants through porous materials such as soil and rock. CTRAN/W can be used to model simple diffusion-dominated systems through to complex advection-dispersion systems with first-order reactions.
CTRAN/W can be used to model a vast array of geo-environmental problems involving the movement of dissolved species that originate from either man-made or naturally occurring sources.

Key Features
Comprehensive Formulation
CTRAN/W offers the capability to model a diverse set of contaminant transport mechanisms including diffusion, advection, dispersion, adsorption, decay, and density-dependant flow due to its comprehensive formulation.
Particle Tracking
CTRAN/W can model contaminant movement by tracking particles from user-defined locations. For each time step, CTRAN/W moves the particles a distance based on the volumetric water content and the SEEP/W-computed water velocities.
Saturated and Unsaturated
CTRAN/W is formulated for saturated and unsaturated transport, allowing the coefficient of diffusion to vary with water content and the advection process to adjust as groundwater velocities change in the unsaturated zone.
Model Sorption and Kinetic Reactions
CTRAN/W can model equilibrium sorption and first-order reactions such as radioactive decay, biodegradation, and hydrolysis.
Country:
Canada

User Rating:
You must be registered to vote.