Your single point of reference for all your Geotechnical Inquiries
EarthPres
Open Software link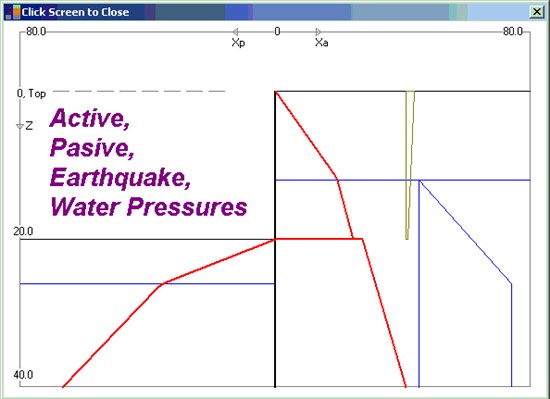 EarthPres is a module in Shoring Suite. It is a powerful computer program, which can analyze the lateral earth pressures on a retaining structure. Based on Wedge analysis, Log Spiral, and Coulomb's equations both active and passive pressure cases can be analyzed and computed. EarthPres can handle all kinds of irregular surface conditions that classical equations or conventional chart methods cannot handle.

EarthPres can determine active, passive and at-rest earth pressures then show pressure diagram and failure surface.
The program can determine the earthquake-induced pressure on wall using two methods: Mononobe-Okabe method (recommended by AASHTO) and Pseudo-dynamic method.
The program also handles water pressure at verity conditions such as seepage or no-seepage, and bottom seal conditions.

Wall friction is considered in the calculations. The pressure distribution, maximum pressure, total force, and failure wedge are determined and can be viewed instantly. The output can be exported to Shoring by a mouse click. This program is also included in the Shoring Suite package.
Country:
USA, California

User Rating:
You must be registered to vote.