Your single point of reference for all your Geotechnical Inquiries
Surcharge
Open Software link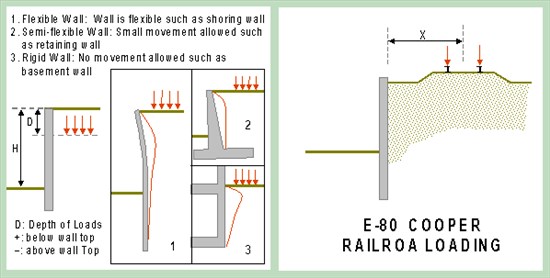 Surcharge is a module in Shoring Suite. It calculates lateral pressure on a vertical retaining system due to surcharge loads. The program uses Boussinesq equation and modified by experiment (after Terzaghi and Teng). It is recommended by USS design manual and NAVY DM7.

The surcharge loads can be point loads, line loads, strip loads, area loads, or a combination of all the loads. The loads can be above or below ground surface.
In version 8, A railroad Loading, E-80 Cooper, is added to the program.
Surcharge gives a pressure diagram and prints the pressure changes with the depth. Instant views and hard copies are available. It is useful for the design and analysis of retaining walls, shoring walls, basement walls, and any flexible wall or rigid wall.

This program is also included in the Shoring Suite package. The output can be exported to Shoring by a mouse click.
Country:
USA,California

User Rating:
You must be registered to vote.