Your single point of reference for all your Geotechnical Inquiries
HoleBASE SI
Open Software link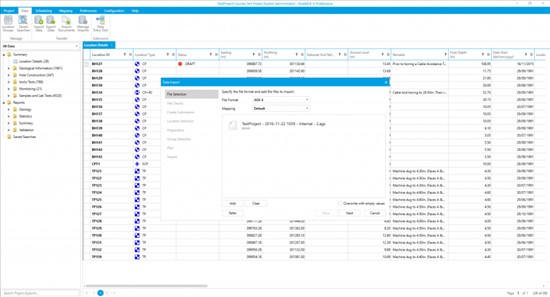 State-of-the-art geotechnical knowledge management.

HoleBASE SI will help you stay in control of your geotechnical project data and streamline reporting throughout every stage of a site investigation.

HoleBASE SI Standard allows you to produce your logs, data and reports quickly and easily. Its multiple import formats and customisable data entry profiles allow your team to enter the data only once, whether onsite or back in the office. It's scalable and affordable to both small independent contractors and large multinational consultants.

HoleBASE SI Professional extends the functionality of HoleBASE SI Standard with the addition of Integrated GIS, Sections, Data Triggers and a licence of the HoleBASE SI Extension for Microsoft Excel. These additional features extend HoleBASE SI from a reporting system to a planning and analysis tool.

Entering Data
Data Entry is one area where large efficiency gains can usually be made. HoleBASE SI comes with numerous features to help you maximize these gains.

Creating Logs
HoleBASE SI log production is the fastest on the market today. The speed combined with the flexibility of Log Reports, Quick Logs and Template Studio gives you the ultimate log production tool.

Site Plans and Sections
Quick and easy site plans and section generation can transform what your engineering team can do and significantly increase their engineering knowledge of a site.

Data Analysis
HoleBASE SI gives you an interactive Site Investigation Report. Learn how to ask questions and HoleBASE SI can highlight the answers for you.

Archive
Your historical data is one of your organization's competitive advantages and HoleBASE SI will allow you to locate this information quickly and include it within any desk studies.
Country:
UK

User Rating:
You must be registered to vote.