Your single point of reference for all your Geotechnical Inquiries
BorinGs
Open Software link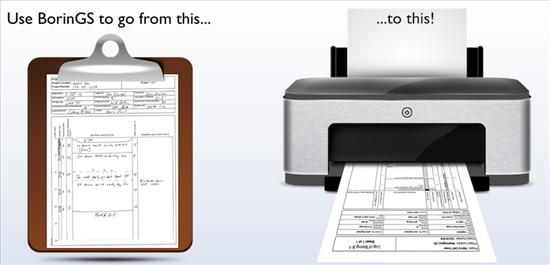 Boring Log presentation having a Desktop and an iPad version.
1. Great Looking Logs
Don't settle for plain logs. BorinGS gives you high quality output with customizable columns, hatch patterns, and page layouts.
2. Easy to Use
Data entry screens for soil layers and samples makes using BorinGS easy. Common header entries (such as rig types) can be chosen through dropdown lists so entering them in multiple logs is both easy and consistent.
3. Well Logs
From simple single-casing wells to multiple casings, easily include well-completion diagrams on your logs with BorinGS.
4. Fence Diagrams
Improved in Version 4, fence diagrams are a useful tool to help get a feel for subsurface conditions. Easily print a project file's existing logs as fence diagrams, including a basic site plan and material key on the page.
5. Column Editor
An essential part of BorinGS is the ability to print exactly what you need for a given situation. With the column editor, you can select which columns to print and in which order. Control over tickmarks and labels has been improved, and groundwater symbols can now be resized and printed in any column. Up to seven custom columns (such as laboratory data) are supported, and can be displayed in any order on the log.
6. PDF Output
BorinGS uses PDF files for previewing and printing logs so what you see is truly what you get. Emailing logs and saving output digitally has never been easier.
Country:
VA, USA

User Rating:
You must be registered to vote.