Your single point of reference for all your Geotechnical Inquiries
Geosense Portable MEMS Inclinometer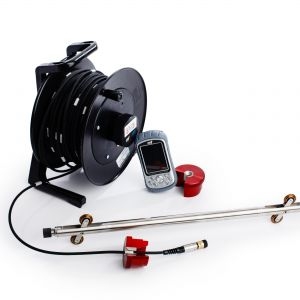 The MEMS Portable Inclinometer System utilises the very latest in Bluetooth and MEMS (Micro-Electro-Mechanical) technology to provide fast and highly accurate readings.
The system comprises a slimline probe (detachable), lightweight cable reel and a rugged PDA (Personal Digital Assistant) which is used to view and/or download data at the borehole.
The probe is fitted with guide wheels and contains MEMS accelerometers measuring tilt in two perpendicular planes: One in the plane of the inclinometer wheels is known as the A axis; the other, in a plane perpendicular to that of the wheels, is known as the B axis.
Kevlar® reinforced cable is mounted on a lightweight, tough plastic reel which houses the Bluetooth module for wireless communication to the PDA. The cable is attached to the probe via a waterproof (to 1500m) quick connection which allows the probe to be detached, significantly reducing transport costs when returned for re-calibration.
The probe contains 'on board' calibration making it completely interchangeable with any reel. A MEMS Spiral Sensor is also available and is also compatible with any reel.
System comprises:
MEMS Digital probe & carrying case
Reel and cable with case & spare battery
PDA with data collection & transfer software
Charger & accessories for reel & PDA
70 & 85mm inclinometer casing cable grips​
​Orientation
Vertical ±30° from vertical
Inclined ±15° from 45°
Horizontal ±30° from horizontal
Wheelbase 0.5m
Probe diameter 25.4mm
Probe length 719mm
Probe weight 1.4kg
Standard range ±30° from vertical
Data resolution 0.005mm per 500mm
Repeatability ±0.002°
System accuracy ±2mm per 25m
Temperature rating -40 to +70°C
Contact:
Geosense Ltd
Nova House
Rougham Industrial Estate
Rougham, Bury St Edumunds
Suffolk IP30 9ND
ENGLAND
T +44 (0)1359 270457
F +44 (0)1359 272860
info@geosense.co.uk
Country:
UK

User Rating:
You must be registered to vote.