Your single point of reference for all your Geotechnical Inquiries
d-Micro Geotechnical Crackmeter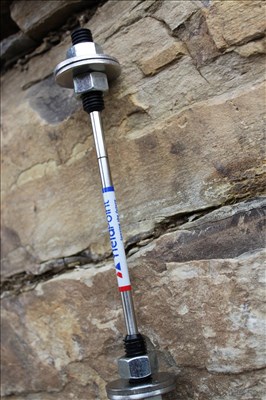 YieldPoint's d-micro is a high precision digital crackmeter with a 10mm range. It operates using an embedded microcontroller running the d-Tech firmware. It is most commonly used as a crackmeter in rock on the surface of concrete structures. d-micro has been used for applications such as:
monitoring any individual or interface crack in a structure
monitoring cracks in underground mines such as lunch rooms and garages
monitoring cracks in parking garages
monitoring cracks in dams under rehabilitation
monitoring cracks in residential structures subjected to blast vibration and fracking vibration
monitoring bridge-deck behaviour
monitoring of pillars and posts
The instrument outputs readings directly in degrees C and microns which eliminates the necessity for expensive analog-to-digital conversion. Readings can also be made using the USB port of a laptop or tablet computer (SensorViewer). Long term, low power, data logging is possible using the low cost dLoggers. A Real-time plug-and-play network of d-micro sensors or of any combinations of any other YieldPoint Instruments can be built in minutes using the IoT Gateway or d-Mesh. These features make solutions based on d-micro instruments significantly more cost effective than those of competing products. d-micro can be easily installed and removed from all types of structures using the convenient corrosion-proof nylon connectors.
Contact:
YieldPoint Inc.
Contact: Andrew Hyett
Email: sales@yieldpoint.com
Tel: 613-531-4722
Fax: 1-888-282-5784
Address: 700 Progress Ave
Kingston, ON K7M 4W9
Canada
Country:
Canada

User Rating:
You must be registered to vote.