Your single point of reference for all your Geotechnical Inquiries
d-CABLE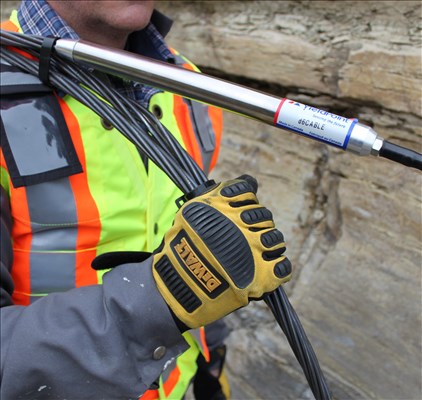 YieldPoint's d-CABLE technology allows engineers, technicians, consultants and contractors to monitor how the load develops along 7-wire stand cable bolts over time, and hence to assess the Factor of Safety against cable rupture. The instrument is applicable to cable bolts, ground anchors, tendons, and tie-backs used in all types of mining and civil projects. It has the potential to predict the risk of catastrophic structural failure: in fact d-CABLE data can enhance many aspects of engineering design, installation quality control, long-termoperation assessment, and rehabilitation. The d-CABLE is indistinguishable from a regular cable and deployment simply involves replacing a regular cable with its instrumented equivalent. During cementing/grouting no special procedures need to be followed. The readout head of the d-CABLE has the same diameter as the 7-wire strand itself, and therefore grips and a jack can be applied over the readout head if the cable is to be plated. If no face-plate is required the readout head can simply be recessed into the collar of the hole.


Contact:
YieldPoint Inc.
Contact: Andrew Hyett
Email: sales@yieldpoint.com
Tel: 613-531-4722
Fax: 1-888-282-5784
Address: 700 Progress Ave
Kingston, ON K7M 4W9
Canada
Country:
Canada

User Rating:
You must be registered to vote.