Your single point of reference for all your Geotechnical Inquiries
R-4 Magnetic Reed Switch Probe – Extensometer / Settlement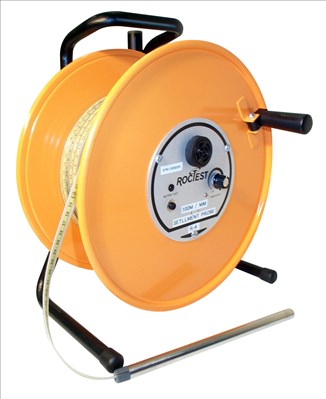 The R-4 magnetic probe extensometer consists of an array of magnetic targets, surrounding a common access pipe, positioned at different depths along the length of a borehole or the height of an embankment or fill.
A reed switch probe, lowered down the access pipe, detects the position of the magnet anchors outside the tube. The probe is suspended by a single graduated tape that incorporates the electrical leads. The tape graduation is used to determine the deformation between magnetic anchor points along the pipe's axis.
The magnetic anchors are available in two configurations: leaf spring anchor, for borehole installation, and plate anchor, for embankment or fill installation. The leaf spring anchor can be pushed in place or lowered with the access pipe and released with an external draw wire.
The plate anchor consists of a plate with a central hole. The plate anchors are installed with the access pipe as the construction of the embankment or fill proceeds. Telescoping access pipes are used where deformations exceeding 1% are expected. The R-4system is compatible with standard inclinometer casings. The use of a probe centralizer is recommended for repeatable readings.
Contact:
Roctest Ltd.
680 Birch Street
Saint-Lambert, Quebec
Canada J4P 2N3
Tel: +1 450 465 1113
Toll free: 1 877 762 8378
Fax: +1 450 465 1938
Country:
Canada

User Rating:
You must be registered to vote.