Your single point of reference for all your Geotechnical Inquiries
Borros Anchors Subsurface Settlement Heave SSB0003C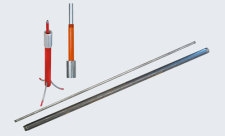 Settlement points with Borros type anchors are mechanical, single point devices used to monitor subsurface settlement or heave of ground. The system consists of a three pronged anchor, a 6 mm (¼ in.) steel inner pipe and a 25 mm (1 in.) steel outer pipe. Pipes are assembled using standard couplings. After installation, the outer pipe serves as a friction reducer, allowing the inner pipe to move freely. Measurement of the elevation of the top of the inner pipe is conducted using standard optical survey methods. Changes in surveyed elevation are equal to the movement of the anchor.



Contact:
GEONOR AS P.O.Box 99 - Roa OSLO, Norway
Phone: (+47) 67 15 92 80
Telefax: (+47) 67 14 58 46


Country:
Norway

User Rating:
You must be registered to vote.