Your single point of reference for all your Geotechnical Inquiries
Liquid Settlement System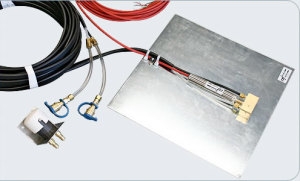 The Vibrating Wire Liquid Settlement System model SSVW105 is developed to monitor settlement or heave in soils and different types of man made structures such as embankments, and earth and rockfil dams. The system consists of a fluid body, reservoir, flexible tubing, and sensor and readout unit. A vibrating wire pressure sensor is attached to a settlement plate located at the point to be monitored, and connected via two liquid-filled tubes extending laterally to a reservoir located on stable ground. The sensor measures the hydraulic head of liquid between the sensor and reservoir locations. The liquid filled tubes can also be flushed. Standard configuration includes one reservoir for each cell. In applications where settlement of two or more points along the same monitoring profile is of interest, RST provides systems with multiposition reservoirs.


Contact:
GEONOR AS P.O.Box 99 - Roa OSLO, Norway
Phone: (+47) 67 15 92 80
Telefax: (+47) 67 14 58 46


Country:
Norway

User Rating:
You must be registered to vote.