Your single point of reference for all your Geotechnical Inquiries
In-Place Inclinometers (IPIs)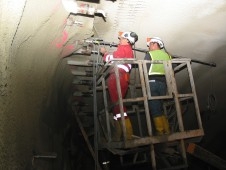 An In-Place inclinometer system consists of a series of inclinometer sensors, which are chain-like, connected to each other. The complete chain is positioned inside the inclinometer casing.The individual sensors are fixed by a spring loaded pivoted wheel set and connected to each other by ball joints. The measured tilts are multiplied with the associated sensor length. Cumulating these products provides the deformation curve with respect to a zero reading.
For vertical installation the probes are usually equipped with two perpendicular tilt sensors. By this way lateral thrust can be observed in two directions.
Contact:
GEODATA Group
Hans-Kudlich-Straße 28
A-8700 Leoben
P: +43-(0)3842-26 555-0
F: +43-(0)3842-26 555-5
M: office@geodata.at
Country:
Austria

User Rating:
You must be registered to vote.