Your single point of reference for all your Geotechnical Inquiries
Wi-SOS 480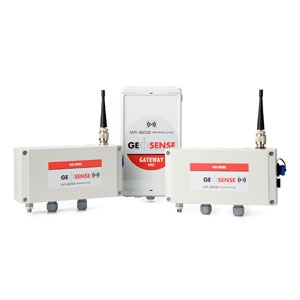 The Wi-SOS 480 (Wireless Sensor Observation System) provides a system to transmit, receive and data log remotely signals from any sensor with a vibrating wire, voltage, 4-20mA, SDI12 or resistance output over long ranges up to 10 km. The user can configure, diagnose and download from a mobile phone using android technology.
The Wi-SOS 480 is a star network consisting of a series of wireless nodes and a gateway. The gateway collects the data from the long-range star network, stores it locally and it is available to view and/or download via GPRS, wired Ethernet or Wi-Fi. No system planning is required and repeaters are not required, saving on installation costs.
Software is embedded in the gateway which allows it to be fully configurable over air or Ethernet and a fast mode allows full diagnostics to ensure correct operation of the system.
The Wi-SOS 480 Web Centre provides a platform to view and download data plus upload images for each project and view on PC, tablet or mobile phone.
The Wi-SOS 480 offers a highly flexible and cost effective solution for projects where a cabled solution is not possible due to physical barriers and/or access restrictions and where real-time monitoring is required.
Contact:
Geosense Ltd
Nova House
Rougham Industrial Estate
Rougham, Bury St Edumunds
Suffolk IP30 9ND
ENGLAND
T +44 (0)1359 270457
F +44 (0)1359 272860
info@geosense.co.uk
Country:
UK

User Rating:
You must be registered to vote.