Your single point of reference for all your Geotechnical Inquiries
SR-45 Advanced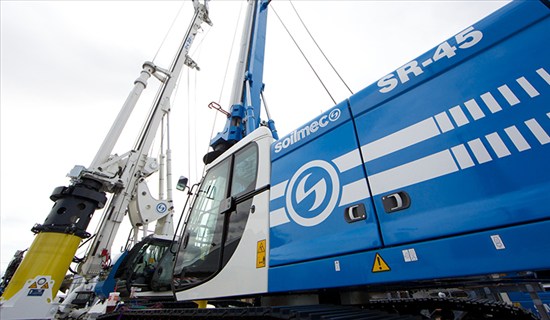 Soilmec rigs are self-mounting, easily transportable and designed to giving the best drilling solutions.
The hydraulic drilling rig SR-45 has been specially designed for suiting the following applications:
- LDP cased bore piles with casing driven directly by rotary head or optionally by casing oscillator powered by the base carrier itself;
- LDP deep uncased bored piles stabilized by drilling fluid or dry hole;
- LHR (Low Head Room) – large diameter bored piles;
- CFA (Continuous Flight Auger) piles by means of long auger string;
- DP (Displacement Piles) / TCT (traction compacting tool);
- TJ (Turbojet®) / TTJ (Twin Shaft Turbojet) - soil consolidation.
The SR-45 is equipped with the DRILLING MATE SYSTEM (DMS) on 12' touch screen for monitoring and control of the rig performances and operating parameters.
Technical data
Diesel engine T3/T4 kW 201/201
Weight t 40.5-42
Main winch kN 165
Min. transport weight t 40.5
Max torque kNm 185
CCS - Crowd cylinder system pull up/down kN 207/240
WCS - Crowd winch system pull up/down kN 240/240
LDP - LARGE DIAMETER PILE
Max diameter (LDP) mm 2000
Max depth (LDP) m 65
CFA - CONTINUOUS FLIGHT AUGER
Max diameter (CFA) mm 1000
Max depth (CFA) m 21.5
DP - DISPLACEMENT PILE
Max diameter (DP) mm 350
Max TCT diameter (DP) mm 400
Max pile depth (DP) m 22.7
TJ - TURBOJET
Max diameter (TJ) mm 900
Max depth (TJ) m 23.4
Contact:
SOILMEC SPA, Via Dismano, 5819, 47522 Cesena (Forlì Cesena) Italy.
Tel. +39 0547 319111, Fax. +39 0547 318548, e-mail: soilmec@soilmec.it
Country:
Italy

User Rating:
You must be registered to vote.