Your single point of reference for all your Geotechnical Inquiries
SDL Water Level and Conductivity Meter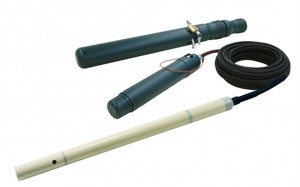 S&DL (Sensor and Data Logger) Water Level and Conductivity Meter measures water level, conductivity and water temperature at a same time. These sensor and data logger is combined into one (1) probe, then stable data can be recorded easily.
Electromagnetic induction type is applied for the conductivity measurement, and it leads to stable monitoring in the long-term.
Retrieving data and monitoring setting are easily carried out using a laptop computer with S&DL Assist (software) at the site.
User can expand this stand-alone monitoring system to remote monitoring system using GSM i-SENSOR data transfer unit smoothly/reasonably.
On the investigation of aqueous environment, such as survey on groundwater salination, water contamination study and so on, water level and conductivity data are required. This instrument can obtain the both data at a same time by the probe. Hence, its installation and maintenance work is easier and more efficient.
Contact:
Sumitomo Fudosan Kanda Building 9th Floor, 7 Kanda-Mitoshiro-cho, Chiyoda-ku, Tokyo 101-8486 JAPAN
TEL +81-3(5577)4501 FAX +81-3(5577)4567
Country:
Japan

User Rating:
You must be registered to vote.