Your single point of reference for all your Geotechnical Inquiries
McOHM Profiler-8i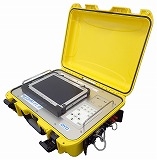 Faster on-site measurements! Digital resistivity meter with built-in 8-component circuits
McOHM Profiler-8i is a multi-channel digital resistivity meter. The combination of this device and a Scanner-32 (sold separately) with an electrode-switching function enables efficient two-dimensional resistivity exploration.
Equipped with an 8-component receiver circuit consisting of a high-resolution 24-bit sigma-delta A/D converter, an energizing circuit (up to 400V "800 Vp-p"•200mA), and a tablet PC-based controller.
Contact:
Sumitomo Fudosan Kanda Building 9th Floor, 7 Kanda-Mitoshiro-cho, Chiyoda-ku, Tokyo 101-8486 JAPAN
TEL +81-3(5577)4501 FAX +81-3(5577)4567
Country:
Japan

User Rating:
You must be registered to vote.