Your single point of reference for all your Geotechnical Inquiries
SloughReader MC4LX2 V1.0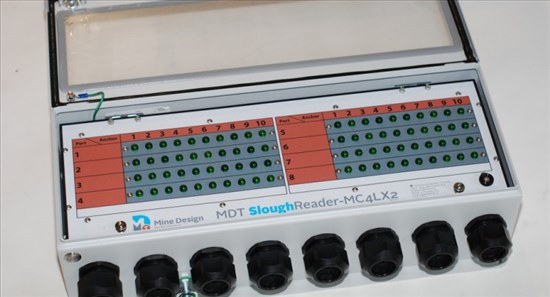 The SloughReader MC4LX2 V1.0 is a custom designed product based on a client request to read multiple sloughmeters in one location (up to 8 simultaneously). The indicators are always illuminated which indicate that no sloughing has occurred, as the lights go out then you know you've lost an anchor. If you have any area that requires multiple sloughmeters to be monitored easily by a passing vehicle, the SloughReader MC4LX2 is the best choice.
Specifications
Line powered 115/230VAC, 50/60Hz, 0.7/0.4A
8 strain relief glands for MDT sloughmeters
8 rows of 10 green LED's for visualization
Test button to ensure LED functionality
Rugged NEMA4X enclosure with clear front door
Features and Benefits
Designed with the end user in mind and as such has been manufactured to survive the rigors of the mining world
Housed in an all steel powder coated enclosure and rated to NEMA 4 and 12 for protection from dust, dirt, washdowns, and oil/coolant dripping
Internal workings are encapsulated and suspended in such a manner as to improve survivability in the event of a blast or other accidental damage.
The instrument is capable of simultaneously reading up to 8 independent Sloughmeters
The indicators are always illuminated which indicate that no sloughing has occurred (i.e. all anchors are currently intact)
The unit is equipped with a momentary pushbutton, located on the bottom left of the enclosure, to verify the operation of the lights.
Applications
Use in areas where multiple sloughmeters terminate at one point
Quick visualization from your vehicle, or on foot
No need for connecting manual SloughReader to each instrument – visualize all at once!
Contact:
Mine Design Technologies Inc
Telephone : +1-613-549-5223
Email : sales@mdt.ca
Headquarters: 6-1045 John Counter Blvd, Kingston ON Canada K7K 6C7
Country:
Canada

User Rating:
You must be registered to vote.