Your single point of reference for all your Geotechnical Inquiries
LH 307 LHD Underground Loader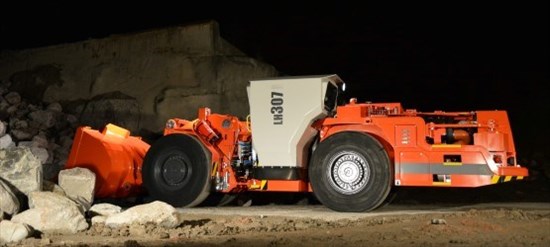 ​​​​​Sandvik LH307 is an underground LHD that features a tramming capacity of 6.7 metric tons and our latest LHD technology to provide maximum performance in the toughest underground applications.
Advantages
ROPS/FOPS-certified operator canopy and optional enclosed cabin improves safety
Sandvik Intelligent Control system monitors all loader parameters, expediting troubleshooting and minimizing unscheduled downtime
Low emission engine to ensure sustainable mining
Ground-level daily maintenance enables safer servicing
Technical data
Dimension (L-W-H)
8.7 x 2.3 x 2.3 m
Capacity
6.7 metric ton
Bucket range
2.7 - 3.7 m3
Weight (operating)
18,020 kg
Hydraulic breakout force - lift
134 kN
Hydraulic breakout force - tilt
111 kN
Engine power
160 kW
Speed (loaded)
24.7 km/h
Contact:
Sandvik Mining: World Trade Center, Tower C, 15th floor, Strawinskylaan 1545, 1077 XX Amsterdam, Netherlands. email: info.mining@sandvik.com
Country:
Netherlands

User Rating:
You must be registered to vote.