Your single point of reference for all your Geotechnical Inquiries
D45KS Rotary blasthole rig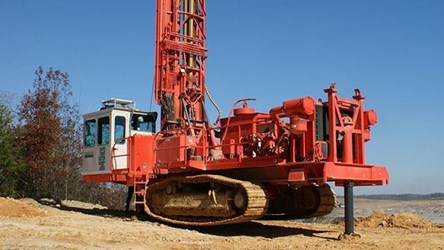 Our Sandvik D45KS blasthole drill is ideal for coal, gold and iron ore mining. It drills holes with a diameter of 152 - 229 millimeters (6 - 9 inches) down to a maximum depth of up to 63 meters (208 feet). This blasthole drill rig offers easy maintenance and repairs for applications where availability and reliability are critical.
Advantages
Open in-line engine design for easy maintenance and serviceability
Compact, powerful drilling platform for stability and support
Durable design for low operating costs and superior longevity
Excellent visibility for a productive operator environment
Effective pipe handling for shorter lead times and increased productivity
Technical data
Engine power range
469 - 522 kW
Max hole depth
up to 63 m
Dimension (L-W-H)
10,300 x 4,978 x 16,040 mm
Dimension mast down (L-W-H)
14,200 x 3,810 x 4,450 mm
Width shipping
Hole diameter
162 - 222 mm
Operating weight (empty)
47,726 kg
Rotary head
194 rpm / 8,221 Nm
Maximum rpm / torque
First pass depth (single-pass)
8.7 m
Compressor range
1,000 - 1,160 m3 / min
Drilling technique
DTH
Contact:
Sandvik Mining: World Trade Center, Tower C, 15th floor, Strawinskylaan 1545, 1077 XX Amsterdam, Netherlands. email: info.mining@sandvik.com
Country:
Netherlands

User Rating:
You must be registered to vote.