Your single point of reference for all your Geotechnical Inquiries
D55SP Rotary blasthole rigs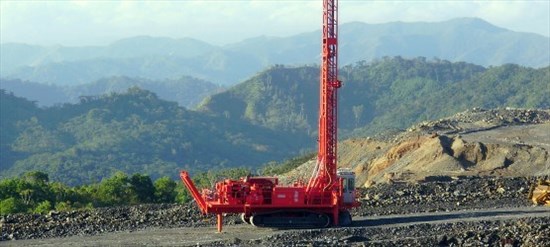 Our Sandvik D55SP blasthole drill is extremely productive in single-pass drilling in soft and hard rock, vertical or angle drilling. It drills holes with a diameter of 172 - 254 millimeters (6 ¾ - 9 ⅞ inches), with a single-pass depth of up to 17 meters (55 feet).
Advantages
Large drilling platform for superior single-pass stability and support
Sturdy mast and frame construction with robust components deliver industry-leading longevity
Diesel engines and compressor options match demanding applications
Technical data
Engine power range
567 - 708 kW
Max hole depth
up to 32 m
Dimension (L-W-H)
13,720 x 5,050 x 23,060 mm
Dimension mast down (L-W-H)
22,630 x 4,400 x 5,330 mm
Width shipping
Hole diameter
172 - 254 mm
Operating weight (empty)
79,333 kg
Rotary head
145 rpm / 10,993 Nm
Maximum rpm / torque
First pass depth (single-pass)
17 m
Compressor range
1,350 - 2,000 m3 / min
Drilling technique
Rotary / DTH
Contact:
Sandvik Mining: World Trade Center, Tower C, 15th floor, Strawinskylaan 1545, 1077 XX Amsterdam, Netherlands. email: info.mining@sandvik.com
Country:
Netherlands

User Rating:
You must be registered to vote.