Your single point of reference for all your Geotechnical Inquiries
Guardian
Open Software link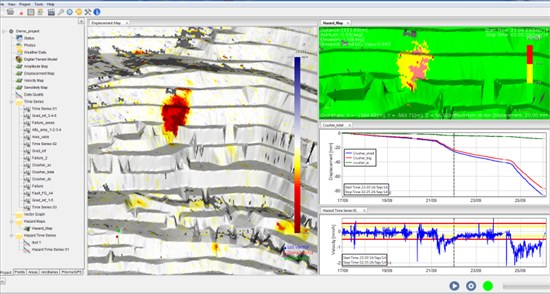 A powerful tool to safely and productively manage slope stability risks

Guardian software
Powerful and user-friendly, the IBIS Guardian software manages slope stability risks in both.

Geohazard assessment and open pit mining operations. Guardian enables fast interpretation and therefore fast reaction time to vital real-time information delivered by the IBIS-FM radar system.

Reliable data with flexible alerts in real-time
Highly accurate displacement data is provided to monitoring specialists in real-time using the most advanced Automatic Atmospheric Correction algorithm.

IBIS Guardian offers alert messaging options and comprehensive geotechnical analysis tools. Monitoring specialists are immediately alerted in the event of slope displacement by means of various instant messaging options such as email, SMS or pop-up alerts.

Advanced data integration for even clearer understanding of slope stability
Automatically import different total station and GNSS datasets, for example from Leica GeoMoS© and others, to enable even clearer understanding of slope stability. Monitoring experts can com-pare prism and GNSS displacement trends, by mean of time series or Stereonet charts, with IBIS radar data to understand movement behavior that much faster.

Full Pit Monitoring 360 & True Vector
IBIS Guardian offers Full Pit Monitoring (FPM) capabilities, stitching together data sets from multiple IBIS radar systems onto a single radar map. The True Vector technology automatically resolve the spatial direction of displacement for hundreds of thousands of overlapping radar pixels monitored simoultaneously by two or more radars.
Country:
Italy

User Rating:
You must be registered to vote.