Your single point of reference for all your Geotechnical Inquiries
GEO5 Sheeting Design
Open Software link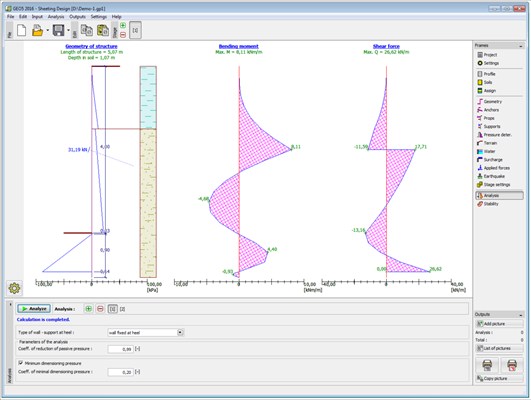 The program is used for design and analysis of variety of retaining structures such as anchored retaining wall and sheet pile retaining wall. It provides required pile embedment lengths (for fixed and hinged toes), bending moments, internal forces and forces in anchors.
Main features

Analysis according to the theory of limit states and safety factor
Generally layered soil environment
Verification analysis can be performed employing EN 1997-1, LRFD or classical approach (limit states, factor of safety)
EN 1997 – option to choose partial factors based on National Annexes
EN 1997 – option to choose all design approaches, consider design situations
Built-in database of soil parameters
Arbitrary number of surcharges applied to structures (strip, trapezoidal, concentrated load)
Modelling of water in front of and behind structures, modelling of artesian water
General shape of terrain behind the structure
Earthquake effects (Mononobe-Okabe, Arrango)
Analysis of earth pressures in effective and total parameters
Multiple levels of struts
Application of specified forces and moments
Analysis of soldier beams
Country:
Czech Republic

User Rating:
You must be registered to vote.