Your single point of reference for all your Geotechnical Inquiries
Crack Meters EXB0007K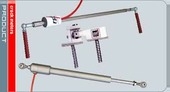 RST's Crack Meters are designed to measure movement across surface cracks and joints. Crack Meters are available as Electrical, 3-D and Vibrating Wire. The Electrical Crack Meter consists of a moveable slider that makes electrical contact along a fixed resistance strip. A regulated DC voltage is applied to the two ends of the resistance strip and the voltage is measured between the slider and one of the end points. 3-D Crack Meters may be read manually, or equipped with a vibrating wire transducer for automated monitoring. Vibrating Wire Crack Meters are easily installed by grouting, bolting or bonding the two threaded anchors (with ball joints) on either side of the crack/joint, and then reattaching the anchors to the sensor. Submersible (up to 200 m) versions are available for installation on the upstream perimeter joint of CFRD dams. 2-D and 3-D versions are available.
Contact:
RST Instruments Ltd.
11545 Kingston St.,
Maple Ridge, BC
Canada V2X 0Z5
Telephone: 604 540 1100
Facsimile: 604 540 1005
info@rstinstruments.com
www.rstinstruments.com
Country:
Canada

User Rating:
You must be registered to vote.