Your single point of reference for all your Geotechnical Inquiries
Flexible Rod Extensometer EXB0005F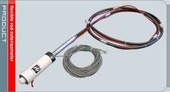 A low cost, convenient instrument for the monitoring of ground displacements. Designed to withstand severe field conditions and accommodate transverse shear. The unit is supplied completely assembled and sealed for grouting into the borehole. Rod displacement readings may be taken manually using a dial gauge or monitored continuously with a remote readout head. The extensometer consists of a maximum of 6 or 10 carbon fiber, fiberglass, or spring steel rods, each
sheathed in a neat fitting plastic tube. One end of each rod is connected to a ribbed steel anchor, grouted into the borehole. The other end is fitted with a brass cap which is the displacement surface with reference to the collar tube. The multiple rods are sheathed in a polyethylene tube, sealed at each anchor point. This construction provides a void for limited transverse shearing of the borehole
without the rods being jammed. Before coiling of the extensometer, the ends of the rods are locked in position at the collar and are released only after the grout has hardened in the borehole.
Contact:
RST Instruments Ltd.
11545 Kingston St.,
Maple Ridge, BC
Canada V2X 0Z5
Telephone: 604 540 1100
Facsimile: 604 540 1005
info@rstinstruments.com
www.rstinstruments.com


Country:
Canada

User Rating:
You must be registered to vote.