Your single point of reference for all your Geotechnical Inquiries
Tell Tale Crack Meters EXB0008F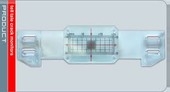 Tell-Tales consist of two plates which overlap for part of their length. One plate is calibrated in millimeters and the overlapping plate is transparent and marked with a hairline cursor. As the crack width opens or closes, one plate moves relative
to the other. The relationship of the cursor to the scale represents the amount of movement occurring. Range ±20 mm – Resolution 1 mm. The telltales are fixed with screws and adhesive across the crack to be monitored.
Contact:
RST Instruments Ltd.
11545 Kingston St.,
Maple Ridge, BC
Canada V2X 0Z5
Telephone: 604 540 1100
Facsimile: 604 540 1005
info@rstinstruments.com
www.rstinstruments.com
Country:
Canada

User Rating:
You must be registered to vote.