Your single point of reference for all your Geotechnical Inquiries
Dynamic Cone Penetrometer Test Set (H-4202A)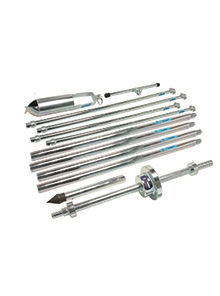 The Dynamic Cone Penetrometer (DCP), originally developed by George Sowers, uses a 15 lb steel mass falling 20 in. to strike an anvil to penetrate a 1.5 in. diameter 45° (vertex angle) cone that has been seated in the bottom of a hand-augered hole. The DCP can be used effectively in augered holes in nearly all types of soils to depths of 15 to 20 ft. (4.6 to 6.1m). Components are zinc-plated and cones are heat-treated. The cone can be replaced with a Drive Tube Assembly (H-4202.7A ) for collection of 3 x 10 in (7.6 x 25.4 cm) tube samples from hand-augered holes. The H-4202 set includes; (1) standard hammer assembly (H-4202.1), (1) heat-treated 45° cone penetrometer point with a 1 ft. adapter rod (H-4202.3), (4) 2.5 ft. E drill rod extensions (H-4202.225), (1) auger head (H-4202.6), (1) auger T-handle (H-4202.4), and (4) 36" auger extensions (H-4202.5). Shipping wt. 76 lbs. (34kg).
Contact:
Humboldt Mfg. Co.
875 Tollgate Road
Elgin, ILLINOIS 60123
phone: 1.800.544.7220
1.708.456.6300
fax: 1.708.456.0137
Country:
USA, Illinois

User Rating:
You must be registered to vote.