Your single point of reference for all your Geotechnical Inquiries
Tilt Sensors (NEMA 4 Enclosure) (MEMS) - Model 6161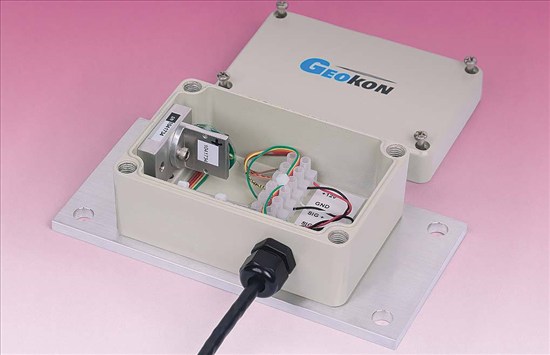 The Model 6161 MEMS Tilt Sensors are designed for attachment to structures, on either a vertical or horizontal surface, and for the subsequent measurement of any tilting that may occur. The sensor itself is a MEMS (Micro-Electro-Mechanical Systems) sensor, which offers a high range, with high sensitivity and accuracy. The included associated signal conditioning yields an output of ±4 V at ±15° and is designed to drive long cables without degradation. (Also see the Model 8003 (LC-3) Series MEMS Dataloggers.)

Specifications:
Standard Range¹: ±15°
Resolution: ±0.02 mm/m (±4 arc seconds)
Sensor Accuracy²: ±0.05 mm/m (±10 arc seconds)
Sensor Output: 6161A/B | ±4 V @ ±15°
6161C/E | Digital
Shock Survival: 2000 g
Temperature Range¹: −20°C to +80°C
Dimensions (L × W × H): 6161A/B/C/E | 122 × 81 × 61 mm (enclosure)

¹Other ranges available on request.
²Established under laboratory conditions.
Contact:
Geokon, Incorporated, 48 Spencer Street, Lebanon, New Hampshire, 03766 · USA. Tel.: 1(603)448-1562, FAX: 1(603)448-3216, e-mail: info@geokon.com
Country:
USA

User Rating:
You must be registered to vote.