Your single point of reference for all your Geotechnical Inquiries
d-EXTO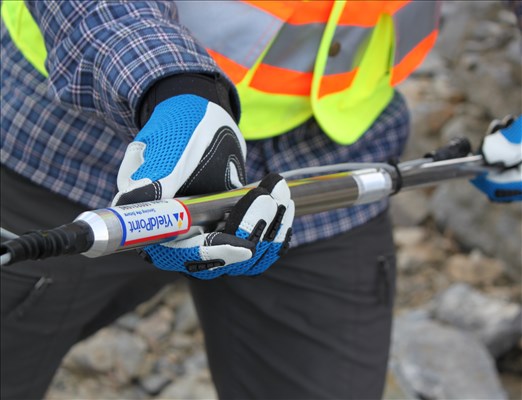 YieldPoint's unique 1 to 6-Point Multiple Rod Extensometer (d-EXTO) combines a traditional Multi-rod design and digital signal processing to result in dramatically improved accuracy reliability compared to similar priced existing technology. This high precision digital instrument comprises up to six (6) Variable Induction Displacement Sensors and an on-board digital temperature sensor. Design features of the d_EXTO include a LexanTM body sheath much stiffer, stronger and durable than polyethylene commonly used; a compact central core which will not be damaged by shear movements of up to 10mm; hermetically sealed electronics that operate indefinitely when submerged in water and robust torsionally straightened stainless steel rods. The inherently digital nature of the signals eliminates the necessity for expensive analog-to-digital conversion and results in low cost readout unit that reads data directly in real world units (mm and oC). The sensor output is an ASCII (9600,8,N,1)digital signal which can be read by a low cost readout unit (d-READER), dataloggers (d-LOGGER), and networked (DESTINY) for transmission to servers. The signals themselves are robust and can be transmitted over 1000ft of lead-wire. If broken the lead-wire can be twisted and taped together.
Contact:
YieldPoint Inc.
Contact: Andrew Hyett
Email: sales@yieldpoint.com
Tel: 613-531-4722
Fax: 1-888-282-5784
Address: 700 Progress Ave
Kingston, ON K7M 4W9
Canada
Country:
Canada

User Rating:
You must be registered to vote.