Your single point of reference for all your Geotechnical Inquiries
Drillysis
Open Software link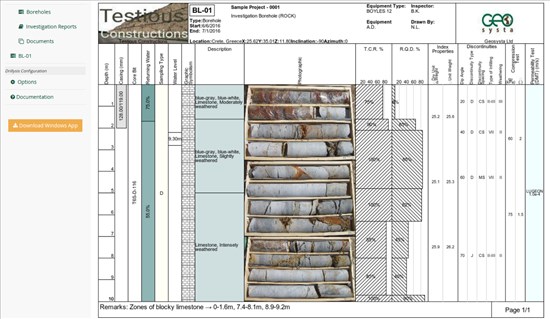 Drillysis is a cloud based borehole log database, which can be accessed from any device (PC, Laptop, tablet or smartphone) from anywhere, requiring just an internet connection.
Drillysis in its core is a borehole log application, designed and developed to make the cumbersome task of borehole logging fast and easy. It provides users with interfaces either via a web browser or a windows app, which is bundled in the same subscription. Users can create and manage their borehole logs either via the web interface using just a browser in their work or home computers, or even out in the field using modern day tablets and mobile phones. All data is centrally stored and accessible in real time, enhancing the collaboration between team members.
Drillysis is more than just a borehole logging application, since it provides a full blown project database. Users have access to their projects categorized by many kinds of attributes such as customer, geographical location, dates and many more. Easy access to past projects, reports and data, as well as real time collaboration on ongoing projects is possible using Drillysis.
Integrating with google maps, Drillysis can depict a project's borehole locations on a map so as to provide the user with a better overview as well as an easier way to navigate throught the various logs.
With advanced photo features, users can include vertical photographs of their drilling cores with depth in the same scale with all other data, or include core box photographs in the borehole log.
As a cloud service, Drillysis does not require any hard lock keys or any complicated local network licenses. With just a username and a password, registered users can access drillysis and work/collaborate on their projects.
Drillysis is designed and developed by Geosysta, makers of Geotechpedia.com
User Rating:
Total Votes: 5
You must be registered to vote.