Your single point of reference for all your Geotechnical Inquiries
RS3
Open Software link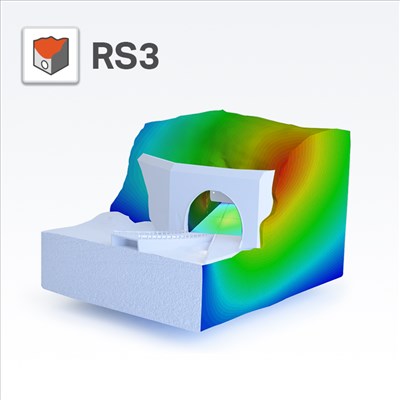 RS3 is a finite element analysis program for underground excavations, surface excavation, foundation design, embarkments, consolidation, and support design. It performs advanced 3D analysis of geotechnical structures for civil and mining applications and offers multiple options for viewing and displaying results in 2D and 3D, including displacements, pore water pressure, stresses, and flow vectors.
Seepage Analysis: Conveniently analyze multilayer soil with a water table on one side and seepage on the other side of the soil. Set groundwater boundary conditions to replicate the scenario of groundwater conditions for dam-related applications and carry out an enhanced seepage analysis.
SSR: Locate the most critical failure points during your slope stability analysis using the Shear Strength Reduction method.
Integrates with:
RS2: Integration between RS2 and RS3 provides an easy transition between 2D and 3D finite element analysis. Import your RS2 models directly to RS3 for a more in-depth 3D analysis.
Slide3: Import Slide3 models into RS3 to verify slope stability results or take the model one step further with RS3's advanced 3D finite element analysis capabilities.
RSData: By copying your material properties from RSData and pasting them into RS3, allow for a streamlined analysis process.
Free trial link - https://go.rocscience.com/l/947462/2022-07-18/m4x5k2
Country:
Canada

User Rating:
You must be registered to vote.